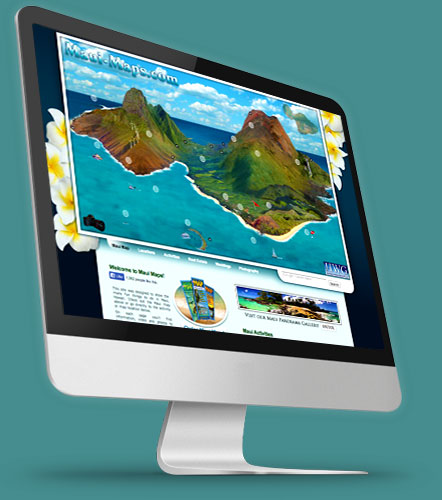 KEEP IT SIMPLE. BE SEEN. CONVERT.
WE BUILD POWERFUL CONTENT FOR HAWAII BUSINESSES THEN USE IT TO DRIVE QUALITY TRAFFIC.
Hawaii businesses benefit massively from our skilled group of Maui residents. We only hire hard working graphic designers, social media managers, content writers, web designers, and web marketers from the State of Hawaii.
We've spent almost two decades building valuable Hawaii visitor websites and highly-followed social media profiles in order to share our favorite businesses with the world.
Growing our audience slowly, we've concentrated on only those that are truly interested in Hawaii. Now that we reach millions, we continue to create beautiful content for our clients and use our sites and social media to let the world find it!
2022 HWG Social Media & Website Reach
2
.
46
MILLION
Website Users
7
.
14
MILLION
Social Media Interactions
132
MILLION
Social Media Impressions
57 Ongoing Clients
As we focus on our core platforms this year, we'll be taking very few new clients. We're currently serving a reduced base of 57 Hawaii clients monthly.
WHAT WE DO BEST AND WHAT WORKS
 At the end of the day, what our clients get is more targeted traffic that leads to more conversions.
WEB EXPOSURE
With our small group of high-traffic visitor websites, Hawaii Web Group drives targeted traffic directly to client websites. We offer high-visibility placement on the most relevant pages with the goal of converting traffic and creating brand awareness.
CONTENT CREATION
Our team creates what we call "Epic Blog Posts and Articles" for our own sites and our client sites each month. These pages have well-researched, unique content written by fulltime Maui residents. We also build intriguing graphics utilizing our library of beautiful Hawaii images. 
CONTENT PROMOTIONS
Because our visitor sites are considered authority, and our social media has massive follower count, we are able to immediately send target visitors to the new content we've created. This floods our client websites with traffic (and sometimes crashes their servers.)
SOCIAL MEDIA MANAGEMENT
Though we do manage some client social media, we're more successful in leveraging our own large audience of HWG social media profiles to create awareness of client accounts.
INFOGRAPHICS
We build attractive, fun ways to visually share sometimes stale information. The average internet user digests information far more rapidly when it is presented in a visually stunning, simple format. This allows for content to be shared virally.
VIRAL TOPICS
For over a decade, we've been researching and testing what works well for particular reader groups. We know what gets shared, when, and how. With our unique insight, our content reaches more interested parties and becomes "Best of Web."
PHOTO & VIDEO
With professional photographers on staff, and unique ways of shooting video, our content is appreciated by an image-craving world. Our videos have been watched 100's of thousands of times, and our images have been seen by millions.
TARGET FOLLOWER GROWTH
For our client accounts, and our own, we build an audience the hard way: By attracting only those that are truly interested. That means creating content they want and engaging with readers afterwards.
"Social Media is a crucial piece of the pie. Relying on only one source of traffic is dangerous."

— Chris Norberg – Project Manager —

Hawaii Web Group is so grateful to have such talented, professional Maui residents working here. Our little web firm is able to do big things and have a huge impact thanks to the hard work from each person.
CHRIS / PROJECT MANAGER
Chris has been with Hawaii Web Group since the beginning overseeing all projects as well as contributing to each one.
NATALIE / PHOTOGRAPHY
Natalie shoots most of the photography for our websites, including events and landscapes.

MATT / CODE & BLOGGING
Matt lends his steady hand to mind-boggling code and inputting content.
SERENE / BLOGGER
Serene writes some of our most engaging content across our many sites.
 
"Partnering with Hawaii Web Group has been the single best investment in our online strategy."
— Daniel Logtenberg / Valley Isle Excursions —
"I can highly recommend the services provided by Hawaii Web Group. My presence on one of their sites has resulted in many inquires and direct sales for my photography business on Maui. He provides one of the best advertising values available. The return on investment exceeds my expectations every month. Chris is a pleasure to work with and has delivered everything promised in a timely fashion. If you are serious about your internet advertising, then give them a call today."
— Greg Hoxsie / Tropical Image Photograpy —
"I have been what you call a "wounded solder" when it came to dealing with my old webmasters. It took way too long for changes, updates, or bug fixes. But once I spoke with Hawaii Web Group, they gave me the proper advise and wonderful suggestions. Even though I wasn't able to switch to them immediately, they were patient, and since then we have built and marketed two sites with them. It has made a world of difference to me to have them as a valuable new part of our web marketing, now I feel confident in pushing new levels on the internet."
— Nion Shephard / Motiv8 Productions —
"I am very happy with the return on investment from advertising with Hawaii Web Group, and I'm increasing my exposure with them because of it."
— Karma Hill / Simple Maui Weddings —
WE ARE GLAD TO HEAR FROM YOU
Meetings by appointment only.
Our offices are now in Makawao and Haiku!
Kill your fax machine!
BEFORE YOU CALL US, READ THIS: We are geeks. Email is preferred with pretty rapid response. If you call, please expect a wait for a return call, and always let us know what site/business you're referring to in the message. If you're calling to sell us a product, just don't. Again, you'll have better luck with an email.
We're taking more marketing clients each month, but client web design is something we do very sparingly. We can refer you to trustworthy professionals, but we only personally take a few web design projects per year.